SEARCH ENGINE OPTIMIZATION
KEYWORD CONTENT
We help you ensure that any time people are searching for your business, your relevant content shows up before their eyes.
CONSISTENCY
Our SEO strategies are built for the long game. We continually push your keywords and content out to the world, making sure that it gets seen.
ON-PAGE STRENGTH
Our team is here to help make sure that you're positioned to attract actual customers, and not just window shoppers. Once you're business is found, let's keep them there.
REPORTING
We keep you fully up to speed on how your campaign is performing. The goal is in the title of the service, we're here to keep OPTIMIZING for you.
THE WORTHWHILE MARKETING EFFORT TO HELP GAIN THAT COVETED TOP SPOT ON PAGE ONE OF GOOGLE, YAHOO AND BING.
Search engine optimization is a cornerstone of almost any comprehensive marketing effort. The WTV360 Media MEDIA team are experts in understanding not only the SEO game, but in the newest ways that search engines are ranking users.
SEO has long been a seen as a simple way to help organically grow your business online, but the truth is that search engine optimization is a complex combination of keywords, content phrases, page stickiness, and relevancy. Is the content on your web pages highly relevant to what the user is searching for? When they get to your page, how long can you keep them there? Most importantly, is your content strong enough to make them WANT to take the next step in the process to becoming YOUR customer?
Search engine optimization can and will lead to an increase in web visitors who become customers, customers who turn into sales, and ultimately sales that increase INCOME when your efforts are consistent, and that consistency starts with Keyword Research. Our team digs deep to ensure that your keywords are the MOST relevant to your business. Once your keywords are set, we quickly move on to a unique SEO strategy designed for your success.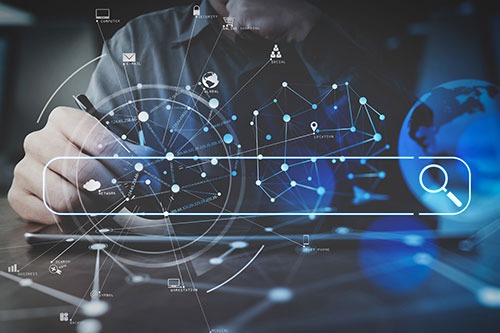 An SEO strategy is key to the success of your optimization campaign. The determination of what content your website, social media platforms, web partners and others display will help ensure that users are seeing YOUR BUSINESS when they search for what you do or provide. Our team make sure you're always on the right SEO path following the newest and best practices that search engines like Google, Bing and Yahoo are looking for.
Once your customized SEO strategy is put to work, we work day in an day out to ensure that your business is organically climbing positions on search engine results pages. We monitor, improve and add results that you can see working for you in monthly reporting you can trust. We keep you in the loop and stay accountable for your SEO investment.